I spent one week end in Nashville, Tennessee for Easter Break. I took the bus for 6 hours in order to come to the country music city. It was actually very cheap (16$) for a round-trip. Another exchange student decided to visit this city with me:  Alexia, it's her name, is currently studying at Canisius College in Buffalo.  At first, we were supposed to go to a concert but the singer was sick. We were a little bit disappointed but then, we found out that Nashville was an amazing city for young people and students.
Despite the fact that Nashville is totally lost in the middle of nowhere, this city is constantly in move. There is always something to do. Alexia and I found an accommodation in a hostel (Nashville Downtown Hostel) very well located, cheap, very spacy and, more important, very clean. The real thing I found really important while choosing the hostel was the cleanness. You cannot imagine how hard it is to stay in a disgusting place with bugs and dirty beds…  We shared our dorm with two nice American girls.
Nashville is very famous for its Broadway Street which gathers all country bars. It is very easy: each bar hosts a music band and the ambiance is just awesome. Prices are very cheap, especially for alcohol drinks. On Saturday afternoon, at 4, all the bars were crowded and people were singing, screaming and dancing. They were very friendly and welcoming. Being a foreigner is not a problem since we met an American singer who allowed us to get free drinks into a bar. Really nice, isn't it?
The most wonderful time I had in Nashville was in the 417 restaurant downtown. First, this place looks like a post-World War II restaurant with the decoration and paintings on walls. Second, the breakfast was cheap (as usual) and delicious. Their pancakes were the best I have ever tasted. They were so sweet and chewy. Third, I think we were the luckiest girls on earth: we had the chance to meet an actor from the Walking Dead (if you don't know the TV show, you really miss something.!) while we were eating. I was just so excited and we asked him for a picture. This actor named Scott Wilson plays Hershel in the show. He was absolutely nice and willing to take a picture with us. We were afraid of bothering him during his lunch but you know how it is: this happens once in a life. I think we aroused his interest because he really wanted to speak with us a little bit. He was probably surprised to meet two French girls in a Nashville restaurant! He proposed us to come to the Horror and Tattoo convention downtown during the afternoon. We bought tickets at the convention center and we got into the big area. We finally figured out that we had to pay 40$ for an autograph and a picture with the actor… Well, at least, we saved money today and we already had our picture!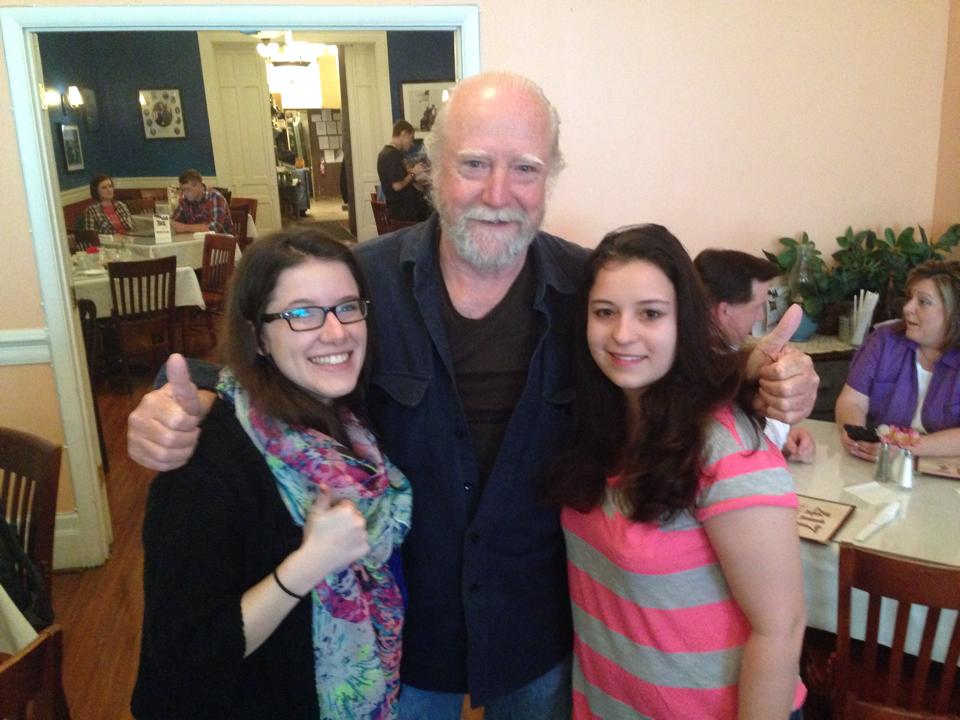 Coming to Nashville without visiting the Country music Hall of Fame & Museum was not an option. We paid 25$ for one day-pass and then, we had the opportunity to walk into the museum. As a matter of fact, it is really hard to stay focused on each part of the museum because as a French student, I did not know many of the country singers. Some of them are obviously famous worldwide: Elvis Presley or Taylor Swift (two opposites, right!)
We also had a great time visiting the Nashville Farmers' market with typical farmers from the state. The market is open 362 days a year:  ranchers, bakers, soaps, milk or cheese for instance can be purchased from locally-owned and operated businesses  who have been in the market for generations. Smells and colors were fantastic.
The last evening we spent in the city was exceptional. We had the opportunity to assist to the Grand Ole Opry, the longest running live radio show about country music, which occurs weekly. As the advertisement says, this show makes the country music famous hence its popularity in the USA.
Everything went well in Nashville: this week end was just fabulous. I really encourage you to visit this capital of Tennessee! (as Johnny said: "on a tous quelque chose en nous de Tennessee!")